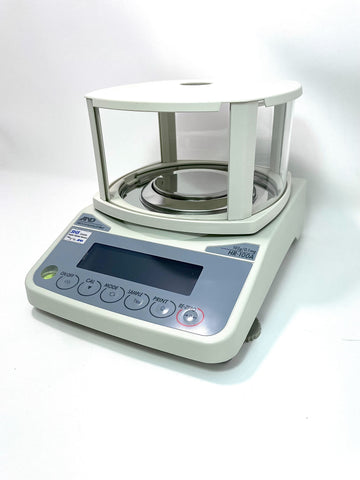 A&D HR-100A Analytical Balance - 102g x 0.0001g - 1574GN x 0.002GN
A&D HR-100A is an entry-level analytical balance, offering precision and accuracy at an affordable price. Solid construction with a small footprint, and centred around the Compact Super Hybrid Sensor (C-SHS) for fast 2-second stabilization.
CE Products has replaced the 7.9-inch breeze break and replaced it with the FXI-10. A 3.4-inch breeze break will allow easy operation with the V3 AutoTrickler systems. Simple user navigation and front-mounted illuminated spirit bubble make for an easy levelling experience to ensure the best performance.
1574GN x  0.002GN
5-year warranty 
Includes 1x 100-gram Stainless Steel Calibration Weight 
Specifications:

| | |
| --- | --- |
| Capacity | 102g |
| Readability | 0.1mg |
| Repeatability | 0.01mg |
| Linearity | ±0.2mg |
| Calibration | External - 100g / 50g |
| Stablization Time | 2s |
| Sensitivity Drift | ±2 ppm/°C (10 to 30 °C/50 to 86 °F) |
| Weighing Pan Dimensions | Ø 90mm / 3.6in |
| Operating Environment | 5 to 40 °C (41 to 104 °F), 85% RH or less (no condensation) |
| Display Refresh Rates | 5 times/second or 10 times/second, selectable |
| Units of Measure | g, mg, oz, oz-t, ct, momme, dwt, grain, tael, tola, pieces (counting mode), % (percent mode), DS (density mode), user definable functions |
| Product Dimensions | 198 x 294 x 315mm / 8 x 12 x 12.4in |
| Breeze Break | 183 x 148.5 x 251mm / 7.2 x 5.84 x 9.88in |
| Warranty | 5 Years |

Additional Literature:
HR-AZ HR-A Series Literature
HR-AZ HR-A Manual


We offer power adapters for outside North America here

***USE  DISCOUNT CODE: AUTOTRICKLER***
At CHECKOUT For Huge Savings 
 

Questions?

In North America 1-800-535-3751  

International  1 519-473-1953  

Open  Mon-Fri 8:30 am-4:30 pm  EST
---
More from this collection