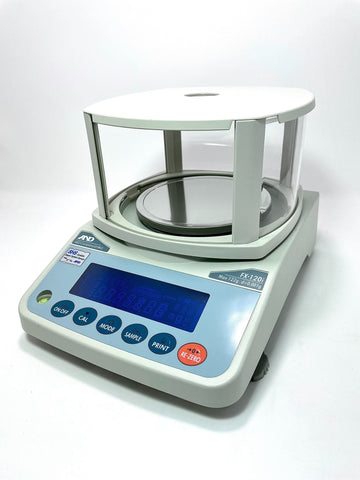 A&D FX-120i Reloading Scale - 122g x 0.001g - 1882GN x 0.02GN - In Stock
A&D FX-120i is the ideal scale for pairing with the AutoTrickler system. Featuring a patented Compact Super Hybrid Sensor at its heart, providing a fast, one-second weighing response time. A&D FX-120i also contains a specially designed internal shock absorber that offers protection from the adverse effects of vertical or transverse overloading. Durable and reliable, A&D FX-120i is an entry-level, full-featured 0.01g to 1mg resolution balance at a very affordable price.
This scale provides 1-milligram precision (approximately 1 kernel of average extruded powders) and is more than accurate enough for all forms of long-range shooting. This level of precision will ensure powder weight has a negligible effect on muzzle velocity SD. This magnetic force restoration balance will not drift like load-cell-based digital scales and will also allow you to sort brass, primers, and bullets with high precision.
For your convenience, here is a link to the Glass Cup. A lot of reloaders end up purchasing it with the FX-120i.    Glass Cup – CE Products Inc - Reloading Scales + AutoTrickler Products
122g x 0.001g 
5-year warranty 
Programmed to work with all AutoTrickler products
Includes 1x 100-gram Stainless Steel Calibration Weight 

Additional Literature:
A&D FX-120i Quick Start Guide
A&D FX-120i Manual - English
A&D FX-120i Manual - Español
We offer power adapters for outside North America here 
Shipping Rates:
FREE SHIPPING in Canada + Lower 48 for Ground Service 
$120.00 Shipping to Alaska and Hawaii and Puerto Rico  
$270.00 for International 8-12 day Priority Mail 
*Item will be sent Signature Required - All prices in USD*
 

Questions?

In North America 1-800-535-3751  

International  1 519-473-1953  

Open  Mon-Fri 8:30 am-4:30 pm  EST
---
More from this collection